Social networking for researchers
ResearchGate and other tools
Why network?
Promote your work

Get citations!
Get hired!

Find potential collaborators
Get advice from fellow experts
Access other's work
Get citations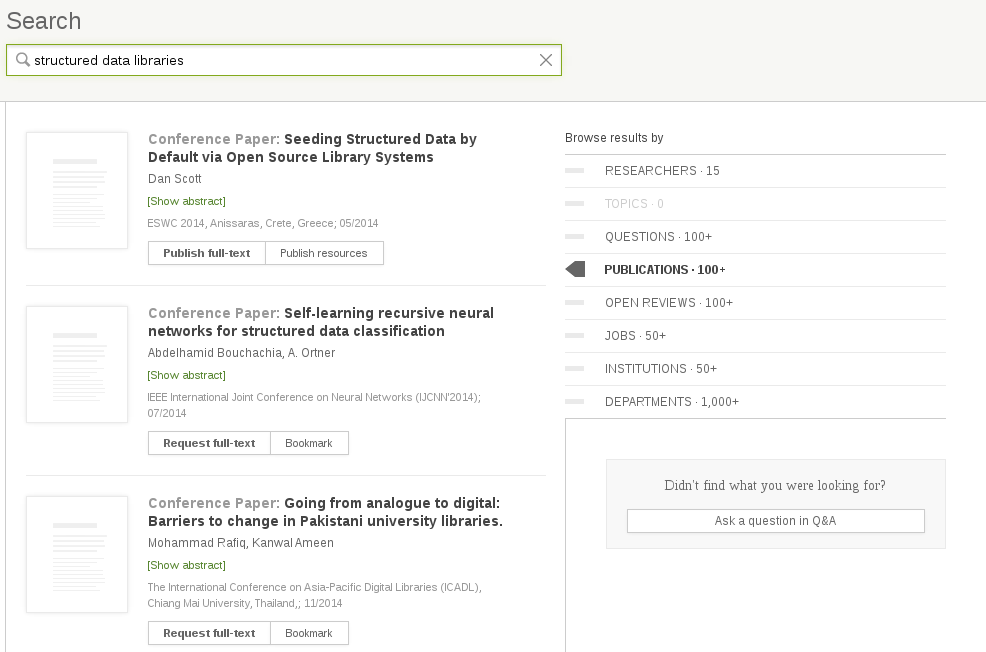 Get hired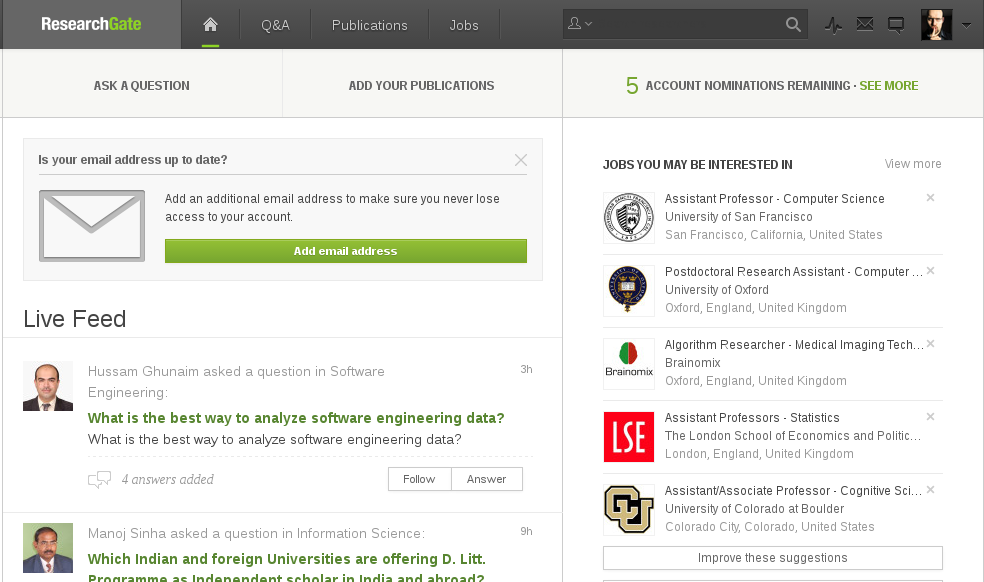 Get advice from fellow experts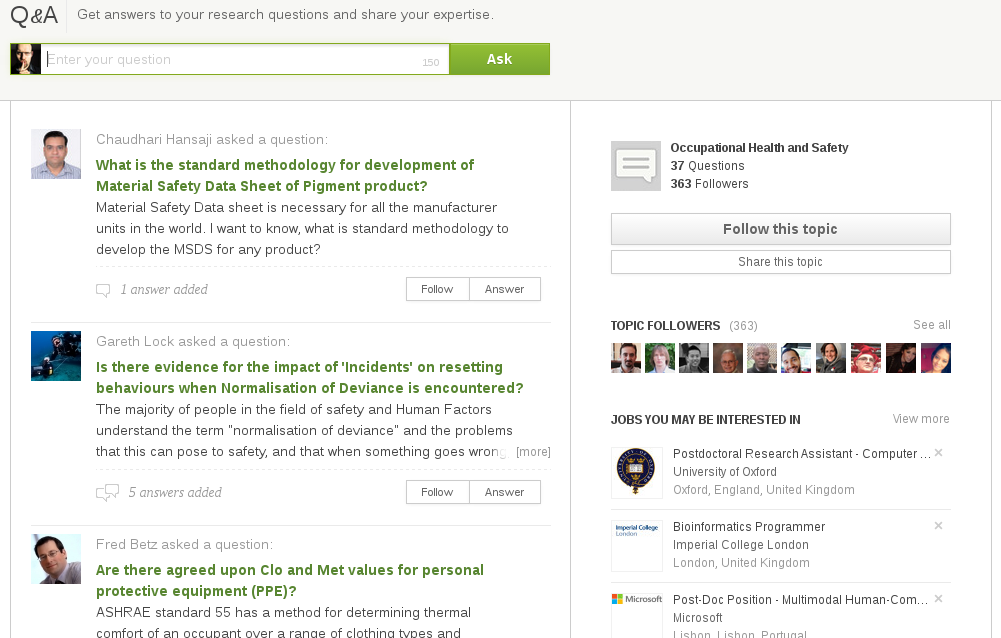 Promoting your work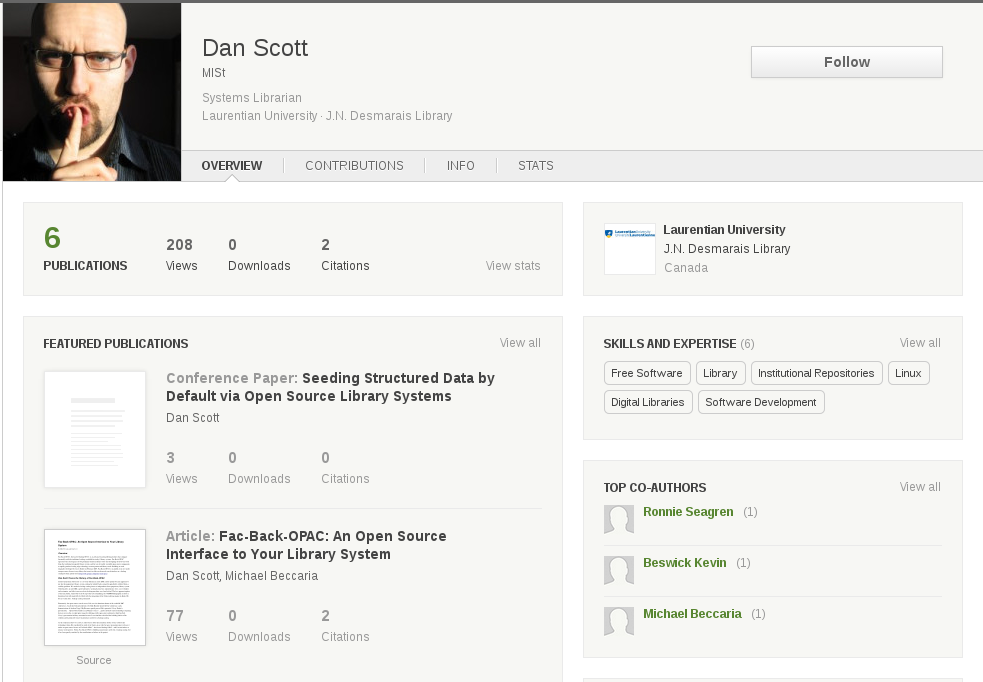 Promoting your work (2)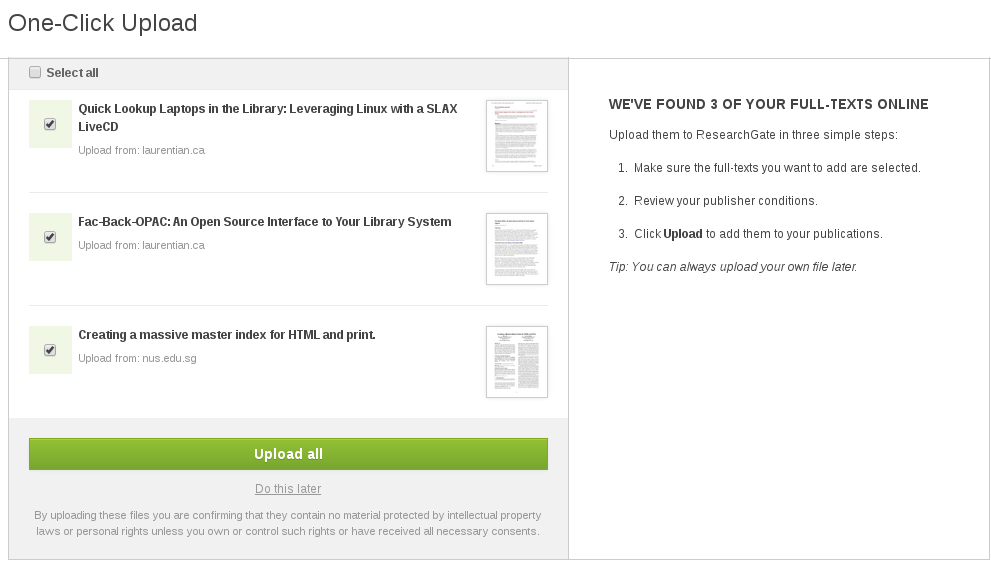 Promoting your work (3)

Promoting your work (4)
ResearchGate Terms and Conditions
Users may only request storage of such information that they may legally store and publish. Users must not request to store any information that infringes any third party's copyright, trademarks, other intellectual property rights or any other rights.
Users indemnify the Provider from any claims raised by third parties in reference to any information that is stored on request of the respective User. The indemnification covers all adequate expenditures, including court and lawyer fees.
ResearchGate: Pros
Researcher profile/promotion
Q&A forums
Job hunting
Literature awareness service
ResearchGate: Cons
Unethical document sharing
Spammy
Academia.edu
15M members, vs. RG's 5M
Open to anyone over 13, vs. RG's university email address requirement
Like RG, terms of use place burden on users
Mendeley
Primary use case: reference management
Document sharing and collaboration on the side
Researcher profile/promotion
Like RG, terms of use place burden on users
Making your research freely available
Publish in quality open access journals

Keep your copyright
Often an "author pays" model

Check self-deposit policy of journal

Many journals allow you to upload your pre-print to your institutional repository
Institutional repository?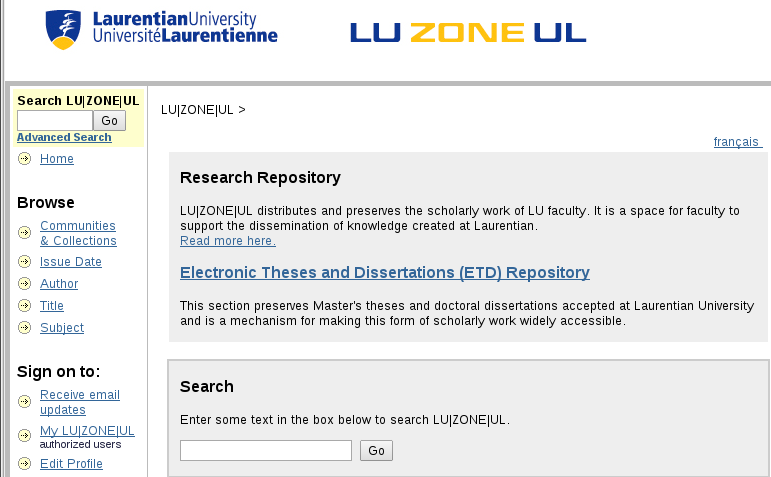 LU|Zone|UL
Run by the library since 2007 to provide access to the scholarly activity of the university community
Contents are harvested and indexed in Google Scholar, WorldCat, and other general search engines
Contact Dan Scott <dscott@laurentian.ca> for help
Google Scholar
Great at tracking down freely available copies of articles
Offers clean researcher profiles and (minimal) networking
Intelligent literature awareness service
Interesting citation metrics
Access to research: the dark side
r/scholar, LibGen, SciHub
I highly recommend staying away from these.
r/scholar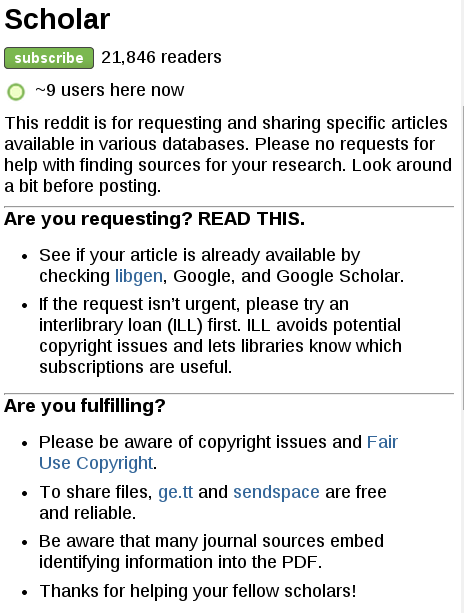 LibGen
Like The Pirate Bay, with a focus on written works
Entire corpus distributed via BitTorrent
Pretty clearly some massive violation of copyright going on
SciHub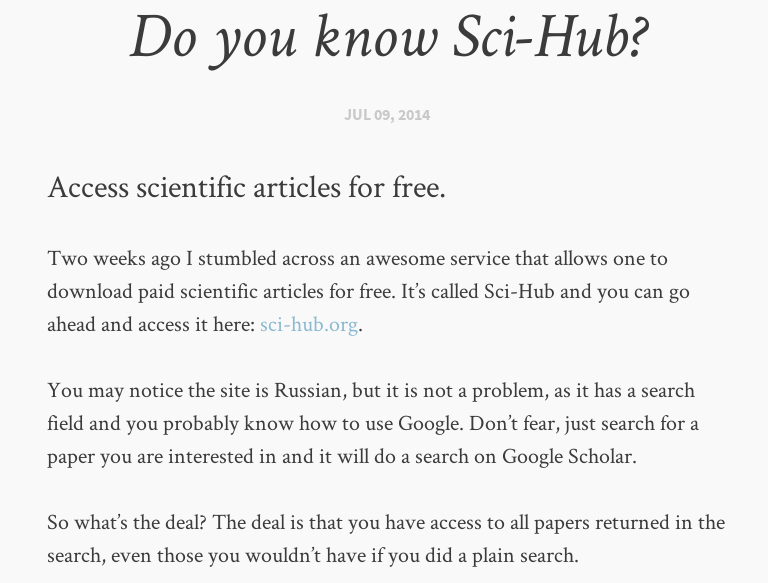 SciHub
Uses phished or freely shared(!) user names and passwords to access university collections.
At Laurentian, abused accounts have resulted in off-campus access to ScienceDirect and other resources being shut down.
BTW, your proxy account == your email account == many other Laurentian accounts.
It's just a bad idea.
RACER

RACER gives the library statistics to justify new journal subscriptions.
Articles are delivered within a week, usually a few days, via email. For free!
Your use is covered under fair dealing copyright provisions.
Summary
Promote:

Publish in open-access journals
Deposit copies in LU|Zone|UL
Create researcher profiles in Google Scholar & other services
Tap into Twitter brand accounts (@CROSH_CRSST and @LaurentianU)!

Find potential collaborators:

Create researcher profiles in Google Scholar & other services

Get advice from fellow experts:

Maybe check out ResearchGate's community

Access other's work:

Google Scholar and RACER requests